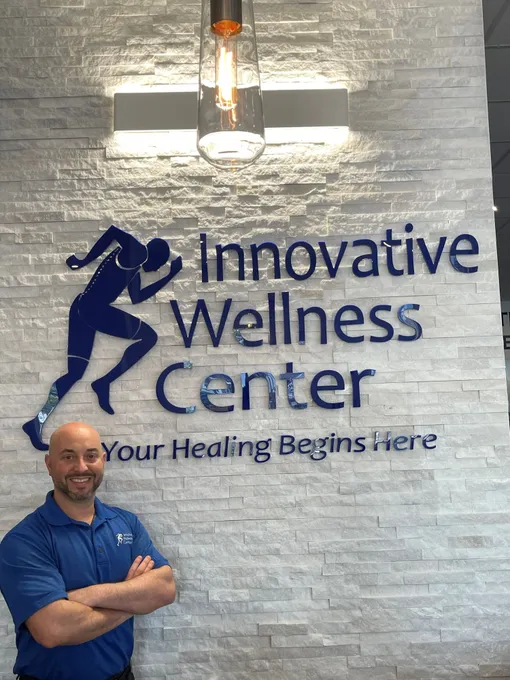 Bryan Berger, DC
Wellness Director
Chiropractor, B.S. Nutrition

Dr. Bryan Berger graduated from Montclair State University in 1998 with a Bachelor's Degree in Nutrition. He continued his education and received his doctorate in Chiropractic from Life University in Marietta, Georgia in 2002. Dr. Berger has been involved in fitness for 23 years and became certified in fitness training in 1997. Previous personal training experience includes: Powerhouse, New York Sports Club and Crunch Fitness. After being an Associate Doctor for 4 years in a successful multi-disciplinary practice, Dr. Berger decided to create The Innovative Wellness Center, PC located in Jamesburg, NJ in 2007. The Innovative Wellness Center focuses on the innate healing power that we all possess by offering a wide array of health and wellness services. In 2009 the Innovative Wellness Center expanded with the addition of Acupuncture services. In 2012 the Innovative Wellness Center expanded again with the addition of Physical Therapy services. Dr. Berger strives to help as many people as possible maximize their health potential through a combination of innovative techniques utilizing Chiropractic, Acupuncture, Fitness, Massage, Physical Therapy and Nutrition Education.
---
Dr.

Chiropractor

Dr. Schwartz ran a successful practice in Manalapan, New Jersey for over 25 years and then worked in a multi-disciplinary office in East Brunswick for the last 10 years. When he met Dr. Berger, he saw an opportunity to both continue to grow as a chiropractor in an exciting new wellness center, and to continue to help people with a variety of conditions. He prides himself on his ability to listen to his patients and to help them to live an active and fulfilling life.

Dr. Schwartz continues to add to his knowledge and expertise by attending post graduate courses and seminars on a wide variety of chiropractic and health related topics to keep himself up to date on the newest and most efficient ways to help his patients. He is passionate about treating and helping his patients and uses a natural and holistic approach.

In his spare time, Dr. Schwartz loves spending time with his family, watching sports, exercising, and listening to a wide variety of music.

DC

Chiropractor

He was born in Lviv, Ukraine in 1972. Immigrated to the US with his family in 1980. Dr. Liberman has always been passionate about exercise and powerlifting. He began powerlifting at age 16 and became a national champion by 17. Dr. Liberman has won five national titles & one collegiate national weightlifting championship. In addition to his powerlifting accomplishments, Dr. Alex began strength training people while he was in chiropractic school in 1997. His claim to fame is training one of his students to become a world champion powerlifter, Ellen Stein. He taught her for 10 years and won 4 national teenage powerlifting championships & one collegiate national weightlifting championship.

Dr. Liberman Graduated from NYU with a bachelor's degree in mathematics, then went on to Parker College of Chiropractic. After graduation, Dr. Liberman took his passion for fitness and chiropractic and went into private practice in 1999. Dr.Liberman is proud to now bring his expertise in fitness and chiropractic to the team at the Innovative Wellness Center.

Dr.

Doctorate of Acupuncture and Chinese Medicine

Innovative Wellness Center is proud to welcome Dr. Phillip Lew, DACM (Doctorate of Acupuncture and Chinese Medicine) to our staff! Dr. Lew graduated in 2016 with honors from Pacific College of Oriental Medicine and Acupuncture in New York City, where he earned his Doctorate. He is certified by the NCCCAOM (National Certification Commission for Acupuncture and Chinese Medicine).

Skilled in the time-honored practice of Acupuncture, Dr. Lew is dedicated to helping patients improve their quality of life. Embracing a proactive approach, he educates and encourages patients to become active participants in their healing process. In addition to alleviating pain via the application of holistic medicine, Dr. Lew treats a broad range of conditions including but not limited to diabetes, arthritis, hypertension, asthma, and allergies. He also assists patients with smoking cessation, insomnia, general health, and preventative care.

O.M.D, L.A.C

Licensed Acupuncturist & Herbalist

Born and raised in Korea, Mr. Lee was steeped in Oriental healing culture and witnessed his father practicing Oriental medicine in their clinic at home. In his mid-twenties he was blessed to meet two exceptional spiritual masters, who taught him chi and chi meditation, martial arts, Taoism, and Buddhist philosophy. Their teachings made him appreciate the value of the medicine his father offered, and inspired and encouraged his interest in becoming a healer. In 1995, he received his Master's Degree at Samra University of Oriental Medicine in L.A. and got the CA Acupuncturist license and the certificate of NCCAOM. He then went on to Korea to study Byungin Herbology, Korean Saam Acupuncture, Dongshi Acupuncture, and Korean Hand Acupuncture. He has been a licensed O.M.D. for over 20 years and successfully helped thousands of patients to heal through acupuncture, oriental herbal medicine, and other holistic therapies. He has acquired many skills and developed the expertise in treating a wide variety of painful conditions, digestive disorders, immune system weakness, and female reproductive concerns and mental disease like depression, insomnia, and anxiety. One of the aspects of his clinical practice is that he most enjoys is educating his patients on how to improve their health and prevent illness. He believes that a primary responsibility of a healer is to be a teacher to patients. Mr. Lee understands that each patient is unique and he will tailor each patient's treatment to their specific condition. He specializes in gentle acupuncture. Every patient will be treated with the utmost respect and focus. His goal is to provide thoughtful and compassionate care while empowering his patients to live healthier lives.

Physical Therapist

Rovy grew up in Pampanga, Philippines, where he attended Far Eastern University and Fatima College of Medicine, earning a Bachelor of Science Degree in 2000. Rovy then began practicing in an outpatient clinic as well as neurologic home care. In 2003 he relocated to New York, working for various outpatient facilities and nursing homes until 2006 when he relocated to New Jersey and join a Range of Motion Spine and Sports at Howell.  He worked for outpatient care at Monmouth Pain and Rehabilitation at Wall, Freehold Physical Therapy, and worked as the Clinical Director for Professional Physical Therapy at Freehold. He treat patients of all ages in a variety of clinical areas, including post-operative, orthopedics, geriatrics, and balance/vestibular disorders. Rovy has extensive background in Myofascial Decompression, Spinal Muscle Energy Techniques Sports Medicine, Postural Restoration, and Orthopedic Manual Therapy. Currently practicing as an evidence-based with a strong emphasis on therapeutic exercise, postural/core stability, functional manual therapy and movement training, and patient education. 

RD

Registered Dietitian Certified in Adult and Adolescent Weight Management

Michele Berger, RD graduated from Montclair State University in 1999 with a Bachelor's degree in Dietetics. She continued her education participating in a competitive nine month internship in a clinical, outpatient and food service setting. She began her experience as a clinical Registered Dietitian at Virtua Health hospital system in Southern New Jersey for three years. She then transferred to the outpatient setting and designed a medically based weight loss center for the hospital. In 2003 she completed all requirements and became nationally certified in adult weight management. After moving to Central New Jersey in 2005 she continued her experience by joining the Family Medicine Residency Practice for CentraState hospital system.In 2006 she decided to create Nutrition Solutions, LLC located in the Innovative Wellness Center and offer a broad spectrum of nutrition services to the community. Nutrition Solutions offers weight loss and nutrition education programs based on Medgem metabolism testing and Body Composition analysis. In 2007 Michele completed all requirements and became nationally certified in adolescent weight management. Due to high demand, in 2009 Nutrition Solutions expanded with the addition of a second location in Elite fitness & sports located in Manalapan.

RD,CDE

Registered Dietitian and Certified Diabetes Educator

Valerie Bottega graduated from California State University at Northridge with a Bachelor's of Science degree in Dietetics and Nutrition. Following that she completed her intensive internship at Los Angeles County USC Medical Center. She then worked at the LiteLife Program at St Luke's Medical Center in Pasadena, CA. There, Valerie worked as the coordinator of a weight loss program which offered both traditional and therapeutic weight loss through counseling as well as gastroplasty for eligible clients.
In 1988 she began a 5 year stay at University Hospital at Stony Brook. While affording her a broad base of both in-patients and out-patients to work with, from pediatric to geriatric, her primary focus was working with the Diabetes Treatment Unit and the endocrinology team. Valerie developed a strong interest in working with individuals with diabetes. This passion led her to become a Certified Diabetes Educator.
Valerie embarked on a 4 year job experience working for Bristol Myers-Squibb as a sales representative for their nutritional product line.

For the past 15 years she has been in private practice allowing her to offer nutrition services to a wide variety of individuals. In addition to maintaining her CDE certification, Valerie completed requirements in 2011 to become certified in adolescent weight management.

LMT

Licensed Massage Therapist

Aneta graduated from Cortiva Institute - Hoboken NJ campus in 2013 along with extended professional massage program in 2014. She specializes in techniques like: Swedish, Deep Tissue, Sports and Chair Massage, Trigger Point Therapy, Hydrotherapy, Myofacial Therapy, Neuro – muscular Therapy, Orthopedic Stretches, Shiatsu, Thai Massage, Hot Stone Massage and Massage for Migraines.

"My goal is to help people feel relaxed from every day stress, discomfort, so they could get back to health with all my passion, heart and dedication."

Licensed Massage Therapist

Innovative Wellness Center is thrilled to welcome a new Massage Therapist to the staff. Matt has been working as a Fitness and Movement Coach for the past 5 years. During this time, he had noticed a lot of his clients were struggling with pain, especially with certain exercises. In his scope of practice as a fitness professional, he can only provide his clients with mobility and flexibility exercises to help improve their symptoms, but he wanted to find more ways to help. This had propelled him to seek out what else he could offer, leading him to Massage. He believes it could bridge the gap of what he was searching for without years and years of schooling.

Massage allowed him to do extensive soft tissue work that would benefit his clients, all while spending more time with them and efficiently helping them. He graduated his LMT program from Brookdale Community College in October of 2020. With his previous knowledge of the Muscular System as a movement coach and the education he gained through his program, he is ready to begin the next chapter of his journey and deliver exceptional service.

LMT

Licensed Massage Therapist

Renee Crowle is a licensed massage therapist. Massage is Renee's passion! Renee went to Health Choices Holistic Massage School in Princeton, NJ, and graduated in 1989. Renee has free lanced, working for orthopedics as a medical assistant, and massage therapist at multiple spa locations.

She practices polarity, pre-natal, sports massage, swedish and integrative massage. This includes multiple techniques such as effleurage, (light or deep strokes), pet message (kneading) , tapotement, (gentle slapping) and friction. She focuses on all tension built up in the neck, back and extremity areas. Renee enjoys working and sharing knowledge with her massage clients, and will always give 100% of her energy and love.

Fitness Instructor / Personal Trainer

Danielle took a non-traditional route to personal training when she first graduated from Rutgers University with a degree in art and photography. She later chose to follow her true passion, which is helping people to take control of their health and live a more fulfilling life of strength and wellness through exercise. She completed her education through the National Academy of Sports Medicine where she became a Certified Personal Trainer and continues to fine tune her skillset to this day. For the past two years, she has worked as an in-home personal trainer and a group fitness instructor for both indoor and outdoor high-energy classes. She strongly believes in pushing people to their personal best and providing methods of integrating fitness into an individual's life that works for their lifestyle and fitness level. Her favorite means of training is resistance training although she finds great love in all things fitness, especially kickboxing and martial arts. While she is no longer channeling her creativity into art on a regular basis, her creativity is now channeled towards creating fun and effective workouts for her clients.

Yoga Instructor

Yoga is not just about physical strength and flexibility. Yoga is about learning who you are inside and out through mindful motions. I have a deep passion for healthcare and wellness and believe Yoga is a natural practice to elevate your body and spirit. My specialties include Gentle, Basic, and Chair Yoga.

As a Professional Instructor, I have over 1,000 teaching hours and have taught many students over the last 10 years. My classes will leave you feeling relaxed, stronger, confident, and accomplished as your flexibility increases gradually over time. Each class includes meditation training with guided breathing practices enhancing the traditional yoga poses.

I hold an MBA in Healthcare Management and worked in the Pharmaceutical industry for over 15 years. That part of my life was extremely gratifying, but now my true joy comes from sharing my passion for Yoga with my students. While I am the 'teacher' I am constantly learning and inspired by my students as they share their stories of recovery, healing, discipline, and gratitude. I am truly lucky to be able to share my knowledge and experience of Yoga and look forward to working with you to improve mind, body and spirit

Yoga & Meditation Instructor

Paul Horan has studied yoga for over 20 years with renowned Vedic scholar and teacher Maharishi Mahesh Yogi in India and Europe. He also studied and worked with Dr. Deepak Chopra for several years in the United States. He has directed and taught courses in physical and mental yoga privately and to groups in studio and corporate settings. A former collegiate All-American baseball player and coach, and athletic performance specialist, Paul was certified by Alan Jaeger to deliver his baseball throwing arm development program, widely used by high school, collegiate, and Major League Baseball teams. He also recently developed a comprehensive yoga program for Amazon.com. Paul previously served as Vice President of Learning and Development at Lehman Brothers, as a consultant to Sun Microsystems and the Wall Street Journal, and as a varsity baseball coach at the Lawrenceville School. Paul received a Bachelor of Arts degree from Amherst College. 

Fitness Instructor / Personal Trainer

Ten plus years ago I looked in the mirror and was unhappy with what looked back at me. I made a million excuses why I was overweight and blamed my "big bones" and genetics. I didn't realize how amazing my body could feel given the right foods and healthy habits.

I took myself through a total body transformation losing almost 50lbs in 16 weeks. No gimmicks, no pills, no diet foods. Just exercise and healthy eating. I lost the weight and gained a zest for life I didn't know I was missing. The success and confidence I found in the gym followed me into my everyday life. I found my passion.

I have been teaching group fitness classes for almost 10 years, transforming hundreds of lives and helping people live happier, healthier and more productive lives. We all have this one life to live so let your worst day be yesterday because you deserve to feel amazing today! I can't wait to meet you!

Fitness Instructor / Personal Trainer

Stephanie is married with two grown children and a grandmother of four. Stephanie is originally from New York where she graduated from Brooklyn College with a four-year degree in Dance. After graduating college, Stephanie changed from dance to the large industry of the fitness field. Since then, she began promoting fitness and wellness to all she meets either in a class or as a personal trainer.

Stephanie has several certifications. From AFAA (American Fitness Association of America) she is certified as a personal trainer and a group instructor. She is also certified as a mat and prop specialist in Pilates through AFPA as well as a Nutrition and Wellness specialist. She is also certified in Yogafit, and has a Madd Dog certification in Spin. Stephanie is also CPR certified.


Stephanie wrote for the Twin Rivers Today Newspaper. She shared her knowledge of fitness through her articles called the fitness corner. Stephanie loves helping people reach their goals through teaching and training. She is excited to bring her experience and passion about fitness to all while getting people fit at any age.

Yoga Instructor

Karuna Lynne Elson has been teaching & living a Yogic lifestyle since she was in high school. She is the founder and director of Karunity Yoga Center, where she teaches Yoga, meditation and mindfulness. She received her 500 hr. Advanced Yoga Teacher's Training with One Yoga, April 2021. Karuna's 200-hour training is from the Freehold Yoga Center, a Sivananda style of Hatha Yoga. She also has advanced certificates in Meditation from Integral Yoga and Yoga Energetics & Healing from the Yoga Life Society.

Karuna has taught Yoga at public schools, summer camps, nursing homes, 55+ Communities and fitness centers. She taught Gentle Yoga and Sivananda Yoga for One Yoga Center. She is also a founding member of the Yoga Life Society, a 501c3 nonprofit.

When not teaching Yoga, Karuna spends her time creating. She writes plays, children's books, and collaborated with her musical husband, Anker on a Kids' Yoga album, Meow is the Time For Yoga with songs and stories to practice Yoga. Her MFA is in playwriting, from the University of Southern California where she began her love of teaching. Karuna is also a public school teacher who inspires young minds to breathe and express themselves through theatre and filmmaking at Churchill Jr. High School.

Energy Healer, Spiritual Teacher & Adviser

Nia is 41 years old originally from the Czech Republic, born and raised. She then moved to California and onto NJ. Her passion for spirituality manifested at a very early age. She was 13 years old when she purchased her first book on magic and found beautiful old Tarot cards at the attic. Fascinated and infatuated by the wisdom and the knowledge she didn't stop there. Studying of quantum physics, psychology, metaphysics and philosophy. "I am committed and dedicated to my passion as a teacher, therapist and a healer. I love to continue my journey and be helpful to others in need to the awakened consciousness and global healing!

'My GOAL is to provide excellent service to my students for stress, anxiety and trauma relief by opening up to a more peaceful, healthy, spiritual way of living and an awakening of higher consciousness". She has performed spiritual lectures throughout California, NY and NJ and is excited to bring her healing art to the Innovative Wellness Center.